The popular Master Potter Series brings experienced ceramic artists from around the country to share their personal styles and techniques. These one-day workshops are co-sponsored by CAG and are open to the public.  For details or sign-up information, please visit  Center for Community Arts.  
2018 Winter Master Potter Workshop
Master Potter Series: Tip Toland
February 10, 2018  Saturday 10am-4pm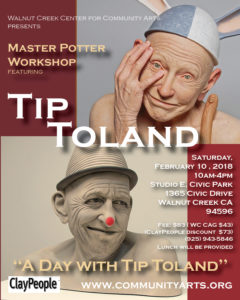 "A Narrative Disposition"
In this one-day workshop, Tip will hand-build, carve, and augment figurative sculptures. She will also discuss armatures and working the figure from the inside out. Toland will explain her aesthetic approach to relating human narrative to its context, social, and internal environments. During Tip's slide talk a discussion on her current work as well as accolades and honors will be presented: i.e. over 100 group exhibitions and 15 solo exhibitions . She has exhibited both nationally and internationally. Lunch will be provided by our non-profit: Clay Arts Guild. Co-sponsored by Walnut Creek Clay Arts Guild and Clay People.