2018 Winter Master Potter Workshop
Master Potter Series: Tip Toland
February 10, 2018  Saturday 10am-4pm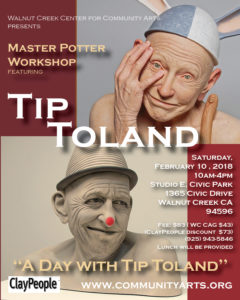 "A Narrative Disposition"
In this one-day workshop, Tip will hand-build, carve, and augment figurative sculptures. She will also discuss armatures and working the figure from the inside out. Toland will explain her aesthetic approach to relating human narrative to its context, social, and internal environments. During Tip's slide talk a discussion on her current work as well as accolades and honors will be presented: i.e. over 100 group exhibitions and 15 solo exhibitions . She has exhibited both nationally and internationally. Lunch will be provided by our non-profit: Clay Arts Guild. Co-sponsored by Walnut Creek Clay Arts Guild and Clay People.
---
Master Potter Series: Bonnie Seaman
 10/7/17 Saturday 10am-4pm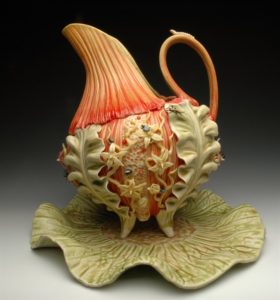 Bonnie is interested in the utilitarian object and how it can be used as a means of narration. Her work blends the macabre with the beautiful, which acts as a metaphor for the fragility and resiliency of life. By using her interest in morphology and anatomy she presents the viewer with a detailed examination of the living structures of the natural world. Bonnie will show her audience how to make these elaborate narrative forms and discuss surface decoration to achieve her end result. Bonnie Seeman has participated in numerous international and national exhibitions including Art Basel, Switzerland; the World Ceramic Biennale, Korea; Arco Art Fair, Spain; and FIAC, France. She currently serves on the board of Watershed Center for Ceramic Arts, and teaches full time at Miami Dade College in Florida.
---
 Master Potter Series: Nick Joerling
Thrown & Altered Pottery 5/20/17 Saturday 10am-4pm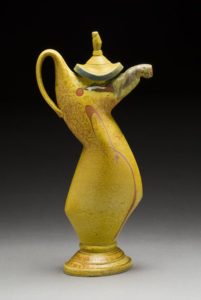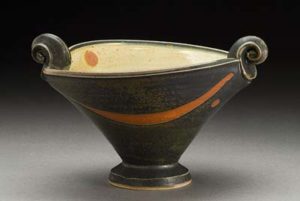 Using the potter's wheel, Nick Joerling will demonstrate how to throw forms that will be altered once removed from the wheel. As he creates his forms, discussion on adding marks and demarcations before off-wheel alterations will be covered; then, using the forms from the wheel, he will display how to shape and mold 'non-circular' shapes. Nick will create and discuss serving trays, open vessels, teapots, and platters. After our catered lunch, Nick will give an hour lecture on his historical references, accolades, and his work as a North Carolina potter with the Penland School of Crafts circuit.
---
Master Potter Series: Sergei Isupov
Layered in Surreality 2/18/17 Saturday 10am-4pm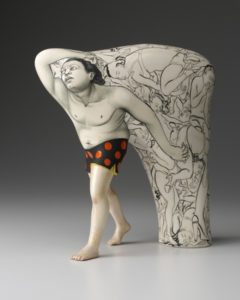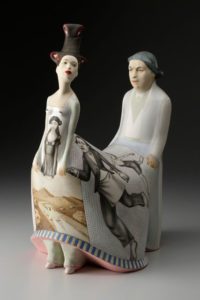 In this one-day workshop, Sergei Isupov will hand build sculptures that combine two and three dimensional imagery. The forms will be figural sculpture in porcelain. He will also demonstrate his narrative painting style of surface decoration using stains and engobes. Sergei will explain his aesthetic approach to relating the subconscious additives of surrealism and how these concepts manifest in the figurative form and its environment. He will also give an hour slide lecture on the history of his work. Sergei Isupov was born in Russia and received a BA and MFA in Estonia. His work has been shown and collected internationally since 1994 and is featured in over five international publications and over attended five worldly acclaimed artist-in-residency programs: Archie Bray, Guldagergaard, etc. He is presently represented by Ferrin Contemporary.
---
Master Potter Series: Kevin Snipes,  Statutes of Conversation 2/6/16 Saturday 10am-4pm

In this one-day workshop, Snipes will hand-build, carve, and decorate several forms, ranging from a vase to more complex forms like a lidded jar. He will also discuss his style of surface decoration that he presented at the 2015 NCECA, Layering Techniques lecture including under glazing, glaze subtraction methods, and Mishima. Kevin will explain his aesthetic approach to relating the subconscious additives of non-objective expression and how these concepts manifest in word bubbles and the figurative form's environment. During Snipes' slide talk there will be discussion on his current work as well as the accolades and honors he has been presented: i.e. artist residency programs at the Clay Studio, Watershed Center for Ceramic Arts, and receiving a Taunt Fellowship from the Archie Bray Foundation. He has exhibited both nationally and internationally. Co-sponsored by Walnut Creek Clay Arts Guild, Trax Gallery, and Clay People.
---
Master Potter Workshop – Saturday to Remember with Linda Sikora & Matthew Metz
Don't forget the upcoming two-for-one workshop with Linda Sikora (vase to left) and Matthew Metz (plate below). Usually when we have two artists presenting in a workshop, there is no down time. When one isn't doing something interesting to watch or sharing vital information, the other one is.
The CAG provides substantial support at these workshops for your benefit, allowing the generous discount you receive as members. The more members who take advantage of this offer, the stronger the possibility they will continue. We are privileged to be able to see renowned ceramic artists in action. You are bound to learn something anew watching these master artists in action on Saturday, November 17th. Sign up before its full!
More About the Artists
Both Linda Sikora and Matthew Metz produce primarily functional ceramics; the workshop will focus on form as related to function, but on decoration as well, not merely as frosting on the cake, but rich with meaning.
In his artist's statement, Matthew explains that his work has a variety of influences, including: Asian pottery traditions, Greek and Roman pots, early American decorative arts and other folk traditions. He continues, explaining that the surface patterns and images he uses come from his life experiences, his interests in nature and history. They don't necessarily have literal meaning, but enter his work indirectly, allowingthe viewers to interpret their own story. His perspective was summed up in this statement, "A coffee cup has as much capacity for meaning as any other form of expression."
Described in her artist's statement, form and function are the focus of Linda's work, particularly teapots and jars, the teapot because of its more demanding engineering particular to its function, and the jar that is a broad canvas yet more permissive in its containment. She likes the idea that her pottery has the, "…ability to disappear into private/personal activities and places," but continues saying that, "…through its intelligence of color, form and stance can also excite/awaken attention…" which thereby reflects to the viewer his or her own imagination.
Both Linda and Matthew maintain a pottery in Alfred Station, New York. Linda is also a Professor of Ceramic Art at Alfred University School of Art and Design. She received her MFA at the University of Minneapolis, and has also taught in many other colleges and art programs. Matthew received his MFA from Edinboro University of Pennsylvania and has also been a guest lecturer and teacher in numerous venues. Both Linda and Matthew have presented nationally and internationally and both also served as resident artists at the Archie Bray Foundation.
The CAG is co-sponsoring this workshop with the Trax Gallery. CAG members are privileged to attend for only $46, a hefty discount from the full fare of $81. If you can possibly attend, this is one not to miss, Remember to bring a potluck lunch to share.
---
Master Potter Workshop – Julia Galloway
A Day with Julia Galloway
Saturday May 21 from 10 am – 4 pm
---
Master Potter Workshop – Christa Assad 2010

Anyone who attended the Ron Meyers workshop in May will attest to the value and reward in taking advantage of the opportunities to learn from master potters. The experience was both valuable and a value, as CAG members have the opportunity to attend these workshops at significantly discounted rates.
Another opportunity exists in the October 23rd Master Potter Workshop featuring Berkeley potter, Christa Assad.
The upcoming workshop will appeal to every CAG member, as Christa combines wheel thrown work with slab construction and hand building techniques. Capitalizing on classic forms with rich color and texture, Christa creates original, contemporary vessels that unite artistic form and functional design.
Christa describes her work as primarily utilitarian and a blend of life lessons, incorporating traditional and contemporary ceramic techniques. Her interests in engineering, design and construction have strongly influenced her work. Design and function are underlying, driving factors in her creative process.
Presently a fulltime Berkeley potter, Christa recently returned from a year on the Kansas City Art Institute faculty. She has extensive credentials, with a BA from Pennsylvania State University, a Fulbright Scholarship at the Nova Scotia College of Art and Design, an MFA from Indiana University and a lengthy history of exhibitions, workshops and teaching experience.
---
Master Potter Workshop – Ron Meyers 2010
The upcoming Master Potter workshop will be held on May 22nd in the clay arts studio, featuring well-known artist, Ron Meyers. Ron's functional pots reveal casual relaxed forms with primitive inscribed and painted designs. More information will be forthcoming in future Kiln' Time issues.
---
Master Potter Workshop – Deborah Schwartzkopf
Saturday, October 10, 2009
Interested in functional pottery — especially functional pottery that is also beautiful? Then this is the workshop for you. Deborah Schwartzkopf will demonstrate both wheelthrowing and handbuilding functional pots at the Master Potter Workshop in the clay arts studio, Saturday, October 10th from 9 am to 4 pm. This workshop is in conjunction with Women in White Ware, a four-person exhibition including Deborah with Mary Barringer, Elizabeth Robinson and Mary Law (a former CAE instructor) at Trax Gallery in Berkeley, October 10th to November 8th.
Deborah grew up near Puget Sound in Washington and earned her a BA in Art at the University of Alaska, completing a Masters Degree in Fine Arts at Pennsylvania State University in 2005. She was awarded a residency at the Sanboa Ceramics Art Institute in Jingdezhen, China and after her two-week stay at the institute, traveled throughout China to other pottery locations. She received a Lilian Fellowship to be a resident artist at the Archie Bray Foundation later that year and in the 2006-07 school year was a visiting assistant professor in the Ohio University ceramics program. She recently spent a year as the artist in residence at Mudflat Studios near Boston, MA.
Deborah is a friend of guild member Pam Bivins and will be staying with Pam during her stay here.
---
Master Potter Workshop – Josh DeWeese
Saturday, March 21st, 2009
Who is Josh DeWeese? Well, he is a Professor of Ceramics at Montana State University in Bozeman. The last time he came to the studio to present a workshop, he was Director of the Archie Bray Foundation in Helena MT (1992-2006). So he has a long and distinguished career in Ceramics, having obtained his MFA at Alfred University in 1991 and his BFA at the Kansas City Art Institute in 1985.
I remember his previous visit as being filled with clay-bucket loads of great suggestions on finishing pieces as well as many entertaining stories of other potters. Josh shares his skills and insights about pottery-making in a very open manner, and answers questions clearly. He is an excellent teacher of ceramic art, having deep and extensive experience with the art of art as well as with clay artists. His work is colorful, has wonderful altered shapes, and is truly functional art.
In my opinion he has a free and expressive approach to making pots. Although his forming of the pot looks easy, we all know the challenges of throwing, and it takes an amazing skill to make it look effortless. He explains his methods very well. In addition – and this is most important – he gives a clear and concrete explanation of how and why he does things. I thought his previous workshop was a great help to me, and am looking forward to this one. I expect to enhance some developments I made after the first workshop. More pictures of some of his work are contained in the CAE Winter Catalog; take a look. Whether functional pottery is your thing or not, the entertainment value of a day with Josh cannot be missed.
One important thing to note is that this is a spring quarter workshop that occurs right at the beginning of the new quarter. So you have to put the date on your calendar now, but register for the class right away at the beginning of the next quarter, Spring Quarter. Hope to see you there!
---
Master Potter Workshop – Lynne Meade 2008
Article By Tamara Selvig
This spring we have a new instructor, Lynne Meade, who will be teaching two beginning throwing classes as well as a Carving Workshop in March.
When I met Lynne at a local coffee shop to interview her, I was immediately struck by her big smile, her enthusiasm, and her beautifully carved ceramic necklace and bracelet. After talking to her for an hour, I was even more impressed with her gifts as a ceramic artist and teacher.
Lynne's love affair with clay began at the age of eight when her mother bought her some modeling clay, and she created a bunch of little animals. As a teenager she cleaned the studio of a local ceramic artist in exchange for ceramic classes. At Wesleyan University in Connecticut Lynne got her B.A. in visual arts with a concentration in ceramics. Part of the curriculum involved learning how to teach, and Lynne became a teaching assistant. She has participated in over 20 group exhibitions, as many trade shows and craft fairs, and has been published in over 12 publications. Lynne has been a ceramic instructor in nine different art centers, including eight years at MIT.
Lynne specializes in teaching beginners how to throw and has a special technique involving the placement of one's elbow. She explained that she can teach students to center in two weeks. First she holds the student's elbow in the correct position as they center the clay. She can look at a student from across the room and call out "elbow!" and the student will correct their position immediately. She recommends her classes to anyone who is a beginning student or needs a refresher course on basic centering or throwing skills.
The Carving Workshop promises to be an amazing day. Lynne's techniques involves placing a two or four-sided symmetrical design on a pot quickly and easily using a grid. She does her carving when the pots are bone dry, as this allows more control, sharper cleaner lines, and makes it less likely to poke a hole through your pot. She finds dental tools are the best for precise carving.
Her beautiful carved pots are made with porcelain clay and covered with a clear glaze. She found glazing frustrating, and loves the clean look of a clear glaze over white clay. Each of her pots takes her two to six days to carve. She also creates murals, tiles, and jewelry.
In addition to being an accomplished ceramicist, Lynne enjoys raising her 12-year-old son and playing competitive softball two to three times a week.
We are fortunate to have Lynne Meade as another wonderful instructor for our clay program at Civic Arts.
---
Master Potter Workshop – Malcolm Davis 2008
Malcolm Davis Shino Pottery Workshop
The Clay Arts Guild is proud to present a workshop hosted by Malcolm Davis, January 26, 2008. Also known as the "Shino Man", Malcolm Davis brings his artistry and brilliance in shino-type form and glazes.
Shino ware is a type of 16th century Japanese pottery most identifiable for thick white glazes, red scorch marks, and texture of small holes. Forms are usually squat and cylindrical, thick but lightweight. Dishes, bowls, and tea utensils are most common.  Pieces can be grey, red, or white, painted with iron oxide or decorated with glaze.
Malcolm Davis' work exemplifies the traditional shino ware and his works are exhibited at numerous shows across the country such as The Smithsonian Craft show, The Clay Studio in Philadelphia, and Red Star Studios in Kansas City.
His work is included in various collections at the American Crafts Museum, The Schein-Joseph International Museum of Ceramic Art, and the Bailey Ceramics Collection to name a few.
A full-time potter since 1984, Malcolm Davis left his life as a campus minister and maintains his mountaintop studio in Upshur County, West Virginia.
His work is exclusively in porcelain and his goal is to "make fresh, spirited, and graceful pots for daily use." He has created a unique shino-type glaze formula which encourages the trapping of carbon in the early stages of firing.
"The characteristics of Shino ware, simple and tough, warped and distorted, make them expressions of delightful spontaneity and lively individuality." Malcolm Davis adds, "I seek not to imitate the forms nor the processes of their making, but to emulate the vigor and spontaneity in the making of lively utilitarian wares"
Shinos are full of magic and mystery so plan to attend this unique educational and entertaining experience.
Examples of pottery made by Malcolm Davis.